De Zes Bochten - Playground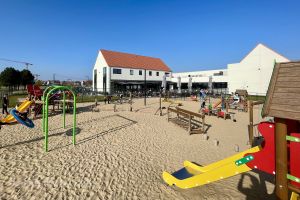 De Zes Bochten is a restaurant with a large indoor and outdoor playground. Both are equipped with a separate toddler zone for the little ones. The outdoor playground is fully fenced, so you can enjoy yourself carefree while the children enjoy themselves in the play paradise.
We are situated in a quiet location just outside the centre of Knokke and have a spacious car park.
Furthermore De Zes Bochten is near the following sights: Swimming Pool Duinenwater (±650 m), Cultuurcentrum Scharpoord (±950 m), Royal Zoute Golf Club (±1,2 km), Casino Knokke (±1,6 km) & Minigolf Duinbergen (±1,6 km).
For information:
Nieuwstraat 127, Knokke-Heist
web.
Website