Shortgolf Cadzand-Bad - Golf course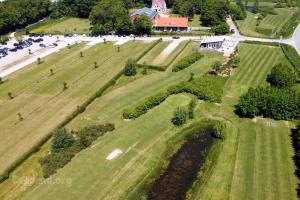 The ideal spot for golfers of all levels! Whether you're a beginner, recreational or advanced golfer, the short golf course in Cadzand offers a wonderful experience for everyone.
The short golf course features 9 challenging holes with distances ranging from 45 to 90 metres, meaning you'll walk less and golf more compared to a traditional golf course. It's a fantastic way to experience the sport of golf without the challenge of a large course. One of the significant benefits of Shortgolf Cadzand-Bad is that there's no golf proficiency certificate required to play. So, anyone can come and enjoy a game of golf here.
Situated at the entrance of the seaside town of Cadzand, this golf course is in a unique location close to the stunning sandy beaches and the Het Zwin nature reserve. The holes are set in a beautiful natural landscape, adding to the overall serene golfing experience. After your game, you can relax and reflect in the clubhouse over a drink.
In short, Shortgolf Cadzand-Bad is more than just a golf course; it's a welcoming and hospitable place where you can enjoy golf, nature, and the cosy atmosphere of the clubhouse, all in a magnificent location near Cadzand's coast.
Furthermore Shortgolf Cadzand-Bad is near the following sights: Wavekarting Adventure (±1,0 km), Seal Discovery Bootstour (±1,0 km), Het Zwin (±2,6 km) & Playgrounds Resort Nieuwvliet (±2,8 km).
For information:
Lange Strinkweg 1, Cadzand-Bad
tel. +31 117 391 234
web.
Website